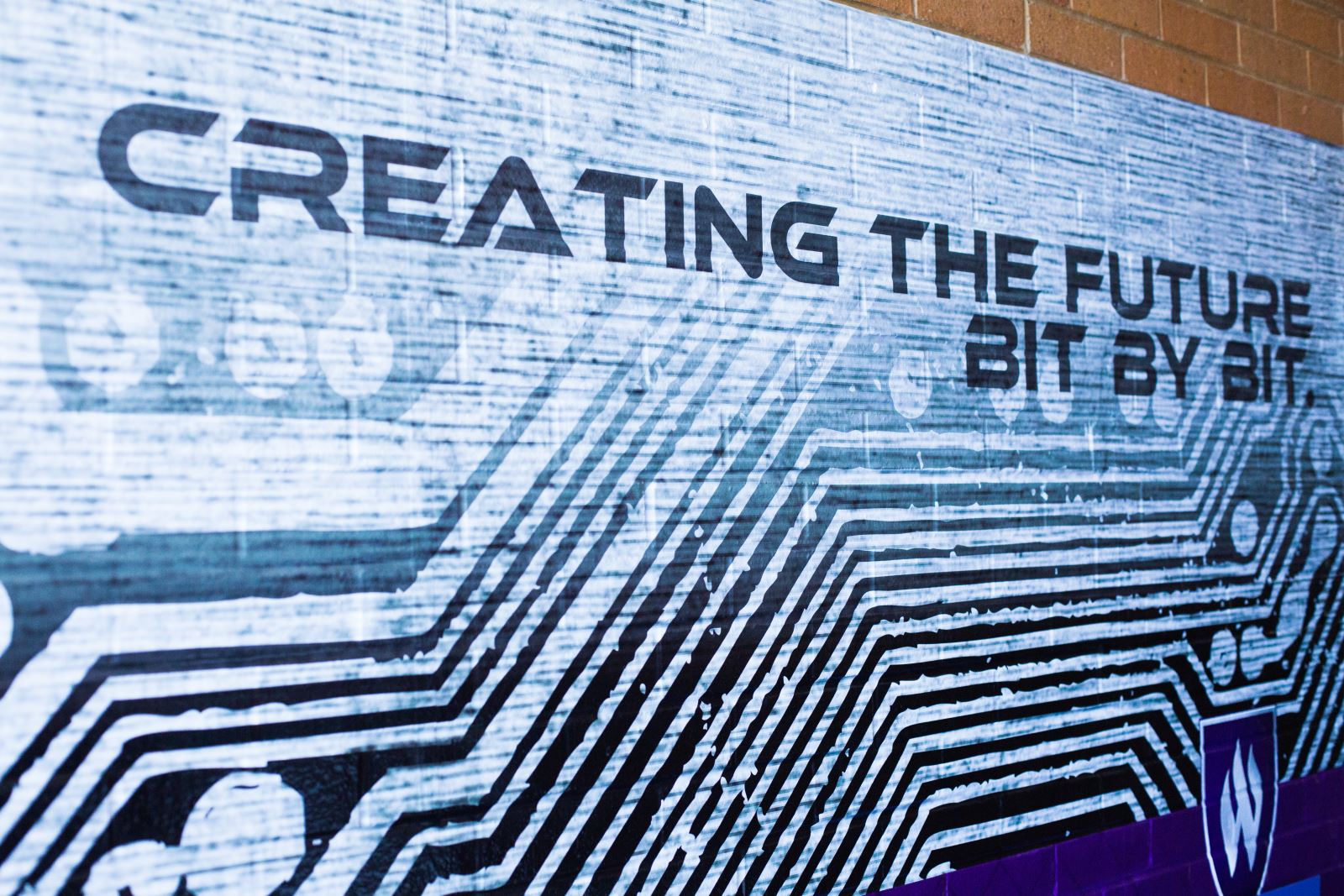 Technical Support
Account Information
Remote Access
DreamSpark
Burning Software
Configure Java Path
Legal
Account Information
Computer science majors have multiple separate usernames and passwords. These credentials are for the computer science servers Icarus (Linux), Athena (Windows), phpMyAdmin access, and the standard Weber State username and password. Read the following information before requesting a password reset.
General information
At the beginning of each semester new computer science majors are automaically given webspaces on the Icarus server. If a student registers after this time they will have to contact a lab aide to have their accounts created manually.
Periodically old data is purged when storage on the server becomes sparse. Therefore, students are urged to back-up anything of importance near the end of each semester.
Students who require assistance determining usernames and/or default passwords can follow this link:
The following is a brief list of the major software used by the Computer Science Department.

Visual Paradigm Academic Partner Program provides Weber State University with the use of modeling software including VP-UML, SDE-EC, SDE-NB, SDE-IJ, SDE-VS, BPVA, AG for educational purpose.
To download the software compatible with our license use the following link VP_Suite_Windows_5_3_sp2_20120202.exe.
The Computer Science Department partners with Microsoft to provide students access to operating systems (both client and server) as well as development tools used in classes taught in the Computer Science Department. These programs are available for free for students to install on their personal computers. For more information see the Dreamspark tab.
To obtain the license for Visual Paradigm students should contact their instructors or contact Patrick Beck.
Remote Access to Weber CS
FTP
SSH
Icarus (Linux)
Athena (Windows Remote)
Osiris (Windows Web)
phpMyAdmin
FTP
Mac or Windows
Cyberduck is used to help Mac and Windows users drag and drop their files from their local machine onto Icarus (the Linux server).
Download

and

install

Cyberduck by going to Cyberduck.io
Once installed,

run

Cyberduck.
Click

"File"

and choose

"Open Connection"




Make sure to choose

SFTP

Server: icarus.cs.weber.edu or 137.190.19.20

Port: 22

Username: Initials then the last five digits of W number

For example:
Name: John Doe
W#: W01234567
Username: jd34567

Password: First name (first letter capitalized) followed by "cs!"

For example: Name: John Doe
Password:Johncs!

Save Password:

Only if on a personal computer,

DO NOT

save passwords on a public computer.

Click "Connect"

Click

"Allow"

if this pops up. It is just saying that the Icarus certificate is trusted.

Open the public_html directory.

Files can be dragged and dropped to and from this window (similar to any other directory on a local machine, except files are uploaded/downloaded from the Icarus server).

To view content in a browser type in the correct URL into the address bar following this example:

Name: John Doe
WNumber: W01234567
URL: https://icarus.cs.weber.edu/~jd34567/

This will show the content that was uploaded to the public_html directory
SSH
PuTTY is the recommended program used to create an SSH connection into Icarus, this allows access to command line operations inside Linux. It can be downloaded at http://the.earth.li/~sgtatham/putty/latest/x86/putty.exe
Connecting to Icarus via PuTTY
Open PuTTY.

Type

'icarus.cs.weber.edu'

or

'137.190.19.20'

into the Host name box.

Saving will prevent the future need to type in the Host Name or IP Address.

Click the Open button.
The first connection attempt will prompt a security alert. Click yes.

A prompt will appear to enter a username and password.

NOTE: passwords are hidden as they are typed.



Athena
(Windows Remote Server)
Athena is the Windows server that allows remote access to all programs that are installed on the lab computers. Students will need to know their Windows username and password to access Athena.
NOTE: There is currently a known compatibility issue with some new versions of Remote Desktop when connecting to Athena. The workaround for this is to prepend 'cs\' to the WNumber used to log in.
To connect to Athena run Remote Desktop Connection using the address athena.cs.weber.edu:53243
When done using Athena it is important to log off otherwise the connection will persist and will prevent the user from logging back in for 30 minutes to 4 hours.
Installing new programs is not permitted and storage space is limited to educational data only. If additional storage space is needed, contact Patrick Beck
Because storage on Athena is limited it may be purged at any time without warning (especially at the end of each semester). Please back up assignment and other important data.
Icarus
(Linux server)
Icarus allows SSH (Secure Shell command line) access to programs specific to the Linux platform and serves as a web host. A username and password is required to access Icarus. See the Account Info tab to troubleshoot issues regarding credentials.
SSH is the most common connection type to Icarus. PuTTY is a recommended SSH program for Windows (Linux has SSH built in). The host name for Icarus is icarus.cs.weber.edu and it uses the default SSH port port: 22.
For instructions on how to transfer files between Icarus and a local machine, and an explanation of web hosting, see the FTP tab.
Osiris
(Windows Web Server)
Osiris provides webspace for students who need to develop in a Windows environment. Webpages will be located at http://students.cs.weber.edu/<WNumber>
FTP Access
To connect to Osiris (students.cs.weber.edu), it is recommended to use a graphical FTP client like CoreFTP. Be sure to use port 4211, PASV mode, and use Windows login credentials with "cs\" prepended to the username (e.g. "cs\johndoe1").
For help determining log in credentials please refer to the Account Information tab.
phpMyAdmin
(Student Access)
MySQL is managed via phpMyAdmin. Contact an instructor to gain access to phpMyAdmin. Students must be enrolled in a class that uses MySQL.
With permission, phpMyAdmin can be accessed at icarus.cs.weber.edu/phpmyadmin using these credentials:
Username: WNumber including the 'W' (The W must be capitalized)
Password: firstname (capital first letter) with cs! appended.

For example: John would use "Johncs!"
Burning Software
You will need a blank disk (cd or dvd), an iso to burn, a cd or dvd burner, and the burning software. We'll assume you've already downloaded the iso from DreamSpark, have a burner and some blank media but do not have any burning software. We'll use one named Active@ ISO Burner. You can get it from http://download.cnet.com/Active-ISO-Burner/3000-2646_4-10602452.html.
Once you've downloaded it, run the program. You'll see a window like this.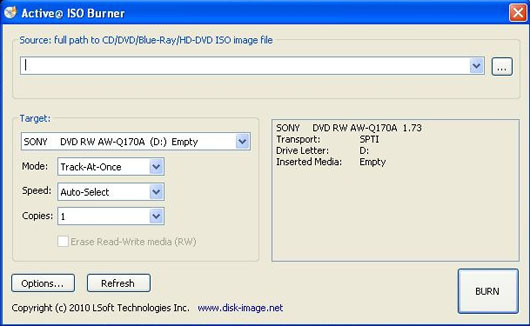 Click on the "..." button off to the right and select the iso.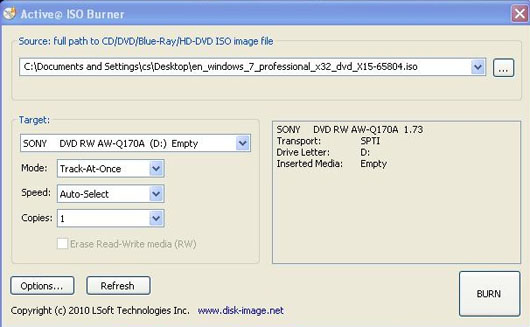 Lastly, click the Burn button.
Allow it to finish, it will take a few minutes for the larger programs. You are now ready to use the disk you just burned.
Java
(Configure Path)
Configuring your Java Path will allow you to run the java compiler from the command prompt.
Go to 'C:\Program Files\Java' OR
Go to 'C:\Program Files (x86)\Java
If there is not a folder called jdk with some numbers you need to install the jdk.
From the java folder go to jdk\bin and there should be a java.exe file.
Right click "java.exe" and go to properties

You can also click in the address bar and copy the path from there.

Copy the location, it should look something like this... 'C:\Program Files\Java\jdk1.6.0_23\bin'
Right click on "My Computer" and go to properties.
In Windows 7 and Windows Vista click "Advanced system settings" on the left.
Go to the Advanced tab.
At the bottom click "Environment Variables".
In the "System variables" window scroll down and find "Path" and edit it.
DO NOT REMOVE ANYTHING FROM "Variable value"!
At the beginning of the "Variable value" input box ADD the path you copied in step 5 AND then a semicolon. If you accidentally delete what's in the path hit cancel and return to step 10.
OK all the way out to the desktop.
Open a command prompt by going to "Start" "Run" and typing 'cmd'.
Type in 'java -version' and if it prints out 'java' followed by the version number it worked.

If it says "'java' is not recognized as an internal or external command, operable program or batch file." you have a problem, come see a lab aide or your teacher.
DreamSpark
(formerly MSDNAA, Microsoft Developer Network Academic Alliance)
DreakSpark Info
Login
Order
Download
DreamSpark
DreamSpark is a partnership between the Computer Science Department at Weber State University, e-academy, and Microsoft. This partnership allows students who are currently enrolled in computer science classes to obtain free licenses to Microsoft's various development software for use in their coursework. Software licenses are provided through the ELMS program.
NOTE: It is a violation of the agreement with Microsoft to use any software downloaded from DreamSpark for any type of financial and/or business use.
For more information about DreamSpark, see Microsoft's DreamSpark website:
To take advantage of DreamSpark students are required to:
Enroll in a Computer Science course during the current semester.
Change their default password.
Have adequate storage for the download.
Have a reliable internet connection.
It is recommended to have a fast internet connection. Some of the download sizes are multiple gigabytes. Note that a wireless connection might not be reliable.
Downloading from DreamSpark
To download software from DreamSpark you must have first Ordered Software using the ELMS system, you can then follow the information below.
Downloading software
The following is step by step instructions on how to download software through DreamSpark.
Log into the ELMS Portal from https://msdnaa.cs.weber.edu
Click on the 'My software' link on the left side below the WSU logo.
You should see the list of your purchased software. Now click 'download' next to the software title you wish to download.

Your Product Key/ Serial Number is listed on this screen.

NOTE: If no Product Key/ Serial Number is listed, either one is not required or you have used up all your installs.

Click the 'Download' Link near the bottom of the page.

NOTE: Some programs will take quite a while to download on a slow internet connection.

If your connection is too slow to download the file in a reasonable time then you may come into the computer lab on the main campus with a CD/DVD and ask for help in getting the software.
You may find information on burning an iso by clicking the 'Burning Software' link on the left.
NOTE:You are only issued one key and one license. You may choose to download the software again if you need to, but you cannot get more than one software key without a very good reason.
Logging into DreamSpark
Students can find their default Windows password under the Account Information tab or by using:
Students can change their default passwords either by remotely logging into Athena or using a lab computer running Windows. When logging in students will be prompted to change their default passwords.
To log into DreamSpark go to https://msdnaa.cs.weber.edu/login.html. If a security warning pops up accept the certificate.
Ordering software from DreamSpark
To order software from DreamSpark you must first Log into the ELMS system (see DreamSpark Login tab) then follow the information below.
Ordering Software
The following is step by step instructions on how to order software through DreamSpark
Click on the software tab to the right of the WSU logo.
You can see 'boxtops' of a few software titles on the main page. The full list of software is in drop-down list.
Select the software package you want by clicking on the image or using the drop-down list and clicking 'Go'.

Click 'Add To Cart'.

NOTE: if there is a price other than 'Free!' we will not be able to support your purchase. Microsoft activates software you are able to pay for and when purchased all support must go through them.

You should now be at the shopping cart, Click 'Check Out'.
Make sure you fill out this page, the e-mail address is where Microsoft will send the Key. Click 'Next'.
Your order is now finished. You now have a legal license to the software.
NOTE: It is a violation of your agreement with Microsoft to use any software downloaded from DreamSpark for any type of financial / business use.
Legal

|---------------------Lawyer-Friendly Message---------------------|
| This system is for the use of authorized users only.            |
|                                                                 |
| In the course of monitoring individuals improperly using this   |
| system, or in the course of system maintenance, the activities  |
| of authorized users may also be monitored.                      |
|                                                                 |
| Anyone using this system expressly consents to such monitoring  |
| and is advised that if such monitoring reveals possible         |
| evidence of criminal activity, system personnel may provide the |
| evidence of such monitoring to law enforcement officials.       |
|-----------------------------------------------------------------|
				
Welcome to Icarus!
Please note the lawyer-friendly message above
For assistance e-mail Patrick Beck
Hours of Operation
Main Campus:
Monday through Thursday:
7:15 a.m. - 5:00 p.m.
Davis Campus:
Monday through Thursday:
3:00 p.m. - 5:30 p.m.